Laird SAH58-120-16-WB
Frequency Response Curve
Indoors: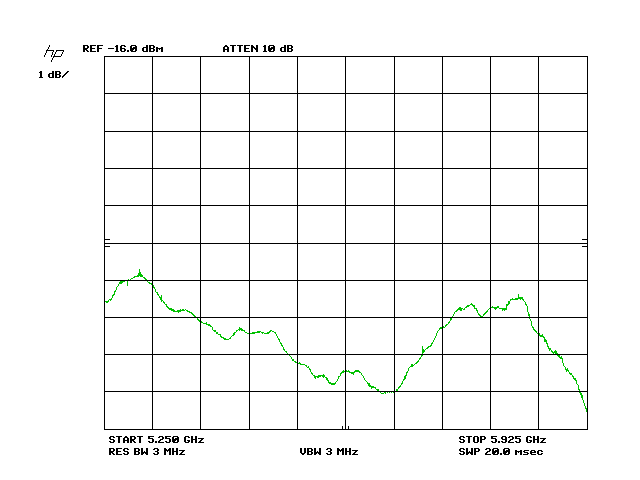 Outdoors: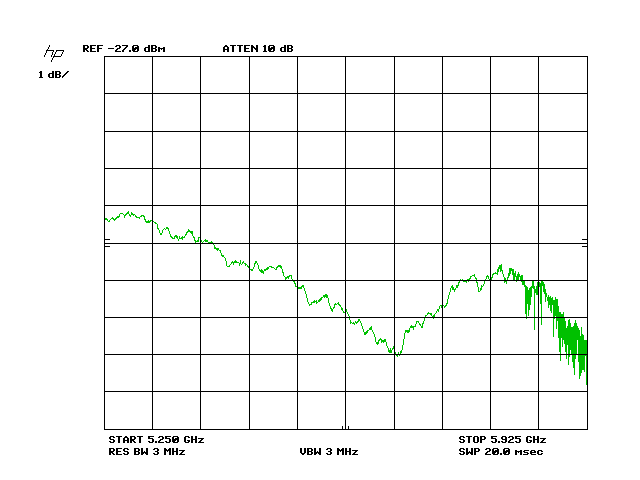 Radiation Pattern
The following plot shows dB gain readings vs. antenna azimuth angle.
Output of run, no cover on antenna
Measuring ...
Detected measurement resolution of 0.575079872204 degrees.
Finding peak magnitude and angle ...
Normalizing magnitude by adding 31.6dB ...
-3dB beamwidth is 97.8187505901 degrees.
Centering on beamwidth by rotating readings -170.859374329 degrees ...
-120 degree gain = -31.7856208661dB, +120 degree gain = -22.167313908dB.
Writing results to pattern.R
Done!
General Notes
| | | | | |
| --- | --- | --- | --- | --- |
| Frequency Range | 5400 | | 5850 | MHz |
| VSWR | | 1.5:1 | | |
| Impedance | | 50 | | OHM |
| Input Power | | | 100 | W |
| Pole Diameter (OD) | 1.5" (38) | | 3" (76) | Inch (mm) |
| Operating Temperature | -40 | | +70 | Deg C |
Horizontal Beam Width: 120 deg
Vertical Beam Width: 6 deg
Polarization: Horizontal
Front to Back: >25 dB
Mechanical Downtilt: 15 deg
Weight: 1.8 lb (0.8 kg)
Dimensions: 22" x 5" x 2.8" (554 x 125 x 71 mm)
Wind loading:
| | | | |
| --- | --- | --- | --- |
| SAH58-WB | 110 | 27.5 lb | 43lb |